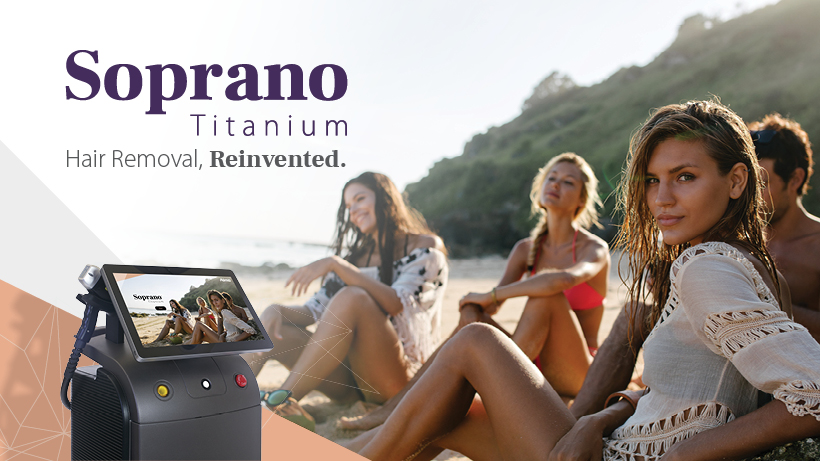 Soprano Titanium Laser Hair Removal FAQ's
How does it work?

The Soprano Titanium offers the benefit of the three most effective wavelengths for hair removal:
Alex Technology: 755nm wavelength offers more powerful energy absorption making it ideal for the widest range of hair types and colours, especially lighter coloured and finer hair.

Diode Technology: 810nm is the classic wavelength to offer deeper penetration of the hair follicle and high average power.

YAG Technology: 1064nm wavelength offers the deepest penetration of the hair follicle making it a optimal solution for darker skin types and thicker, darker hair.
It has 2 treatment hand-pieces – the same 2cm unit as the Soprano Ice Platinum system plus a new 4cm hand-piece which shortens treatment time by 40-50% when treating larger areas such as legs, arms, chest, stomach, back and shoulders.

SHR is Alma Laser's proprietary hair removal method used in clinics around the world. It is the only clinically proven method of laser hair removal that is virtually painless. The Soprano ICE Titanium incorporates Alma's SHR method, ensuring safe and comfortable hair removal. Rather than exposing hair follicles to a single high energy pulse which can cause trauma to the skin, SHR works by gradually heating the dermis to a temperature that effectively damages the hair follicles and prevents re-growth, while avoiding injury to the surrounding tissue.

A high repetition rate of short pulses are delivered deep into the dermis, achieving high average power and therapeutically effective heat build-up. The sweeping In-motion technique of moving the applicator repeatedly over the treatment area ensures full coverage while the new and improved Titanium ICE super cooling technology cools the skin surface – preventing discomfort and side effects and allowing for virtually painless yet highly effective hair removal.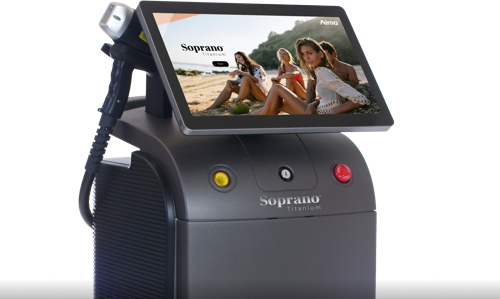 What's the benefit?
Its safe, FDA approved, its fast, allowing you to fit treatments into your busy schedule and its effective, a course of treatments should result in a permanent reduction of hair growth for the vast majority of clients. Each client is unique, but we would recommend starting with a course of 8 treatments to achieve an effective reduction in hair growth. A good responder could see somewhere between 60% to 85% reduction, or even better after a successful course of regular treatments. There is no down time with the Soprano Titanium, the treatment is pain free due to the ICE cooling technology within the device.

Who can be treated?
The Soprano Titanium is suitable to treat all skin types and is also suitable and safe to treat tanned skin. Lasers target the brown melanin pigment within the hair follicle, ginger, white or grey hair will not be affected by the laser. The more melanin in the hair, the more effective the treatment tends to be. However we carry out a full consultation prior to a patch test to determine your suitability for the treatment.


How many sessions will I need?
We would advise after consultation according to your skin and hair type, however generally up to 8 treatment sessions are needed to provide a substantial permanent reduction of hair growth. The number of treatment sessions will depend on various factors including where the hair is, thickness and colour of the hair and skin type, for example facial hair tends to be more stubborn and may need 10 to 12 treatment sessions or occasionally more in very resistant cases. The gap between sessions is usually 4-6 weeks for facial areas and 6-8 weeks for body areas, this allows for the hairs growth cycle. The number of hair removal sessions depends on various factors, including where the hair is, how thick it is and also your particular skin type and hair colour. To achieve the best results you should complete the full course of treatment sessions.

How do I prepare my skin before the treatment?
The area to be treated must be shaved prior to treatment between 12–24 hours beforehand. The skin must be clean from creams, perfume and false tanning products. Avoid tanning or prolonged UV exposure on the area to be treated for at least 2 weeks prior to treatment including sun beds. If you have recently waxed you will need to allow 5 weeks before commencing treatment.


How does the procedure work?

The hair removal procedure is very straightforward, you lie on a treatment bed and make yourself comfortable. As a safety measure, you'll be asked to wear some protective eyewear, which the practitioner will also wear. A thin layer of transparent, cold gel (similar to that used in ultra sound) is applied to the area so that the laser is able to move over the area with ease. The laser practitioner will then run the laser head in a sweeping motion over the area 6 to 12 times like a paint brush. It fires tiny bursts of energy 10 times a second, slowly and gently heating the hair follicles. You will feel the area warming slightly but at the same time the patented Dual Chill treatment tip keeps your skin cool and comfortable.


Depending on which part of your body is being treated, the skin may go slightly red. Treatment times vary depending on the person and the area being treated. It can be as quick as ten minutes, depending on what treatment you're having. Most patients experience a comfortable warming sensation during treatment, similar to receiving a hot stone massage. The Soprano Titanium Laser hair removal may become mildly uncomfortable in sensitive areas.

How do I remove hair in between treatments?
Any hairs that need to be removed in between treatments should be shaved as this is the preferred method of removing hairs before and after treatments. You must not wax, pluck or tweeze the hairs as these methods will remove hairs at their root level, causing the active hairs not to be present for the laser to act on them, making the treatment ineffective.
What shall I expect after each treatment?

Hair growth is natural to the body and grows in cycles, the Soprano Titanium Laser destroys hair in the active (Anagen) stage simultaneously at 3 different depths within the hair follicle. After your session hair may not always fall out straight away, however within 2 to 4 weeks they should begin to shed. As your hairs grow at different stages, this is why a period of 6 weeks (4 weeks for face) is spaced between each session in order to allow for active growth which is then targeted at the next session, so each time gradually reducing the overall hair regrowth on the area treated.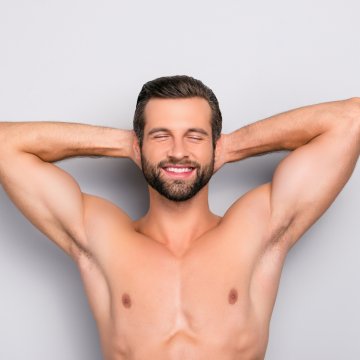 What should I do after treatment?

Normally the skin will feel slightly warm and red after the treatment, but this normally disappears within minutes or a few hours. Follow these post care tips to ensure maximum comfort after your treatment.
Avoid sun exposure

You must not expose the treated skin to UV or self-tan (sun beds) for at least 2 weeks before or after treatment. If your skin gets a tan (active tan) then you are at greater risk of developing hyper pigmentation or getting a burn.
Use a soothing gel
You must protect your skin from the sun – if it's an area that is exposed like your face/arms/neck then make sure you use a high SPF cream every day to avoid getting a tan (around SPF 30 and above). Simple soothing products like Aloe Vera gel can be used if your skin is feeling slightly sore. The gel will help to calm down any redness you may experience from the laser.
Avoid harsh chemicals
This means no bleach or perfumed products such as aromatherapy oils for at least 24 – 48 hours on the area treated. Also avoid swimming in chlorinated water for 48 -72 hours.
Do not wax, thread, tweeze or pluck the area treated
You may shave in between treatments. It is advisable to leave the area alone for 24 – 48 hours after your treatment to avoid any skin irritation.
Avoid a hot bath/shower
If you have had laser hair removal done on your body then it is best to avoid having a hot bath or shower (sauna/steam) for 24 -48 hours as it can cause skin irritation especially if you have sensitive skin.
Avoid extreme exercise
Hot yoga or similar exercises for 24 - 48 hours after treatment.

Avoid exfoliating
If you have had laser hair removal on your face then you must avoid having harsh treatments done such as chemical peels, microdermabrasion for at least 14 days before or after treatment